"Lord, launch us on the adventure of building bridges and tearing down walls"
—a prayer by Pope Francis on World Youth Day
Civility. Kindness. Humility. Truthfulness.  Do you remember the good ol' days when those were considered virtues? As I've processed the presidential election and its aftermath, I find that more than ever I'm grateful to be part of a ministry that seeks to "lean in" to these virtues, to bring people together for generous and respectful conversation about the things that matter. The community of friends that make up Newbigin House is distinguished by a deep desire to see all people spiritually flourish, and an equally deep concern to wisely engage the most pressing issues of our culture. As Lesslie Newbigin wrote many years ago, a credible Christian community is one "whose concerns are as wide as the concerns of humanity," where we "care for our neighbors in a way which reflects and springs out of God's care for them."
– Lesslie Newbigin, Sign of the Kingdom (1981).
Like most of you, I've been hearing stories from people who are afraid—especially women, people of color, immigrants, Muslims, and sexual minorities. And many of us are struggling to navigate the minefield of conversation with family and friends who see things differently. As St. Paul opined, "who is sufficient for these things?" (2 Cor. 2:16).
And yet. Newbigin House exists for such a time as this. Our ministries are bringing people together to wrestle with tough issues of truth and falsehood. We're building bridges between people of different backgrounds and perspectives, creating safe spaces for genuine pursuit of the examined life, always pointing to the hope that can only be found in the good news of Jesus Christ.
Where is this "bridge building" happening?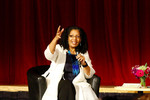 It's happening in Conversations for the Common Good. This year we've hosted conversations with Emmy-award winning actor Tony Hale and the distinguished biblical scholar Peter Enns. This week we'll host best-selling author and journalist Philip Yancey for "Spiritual Reflections on the 2016 Election." And next month we'll be hosting a conversation with theologian Miroslav Volf as part of a colloquy for pastors on the theme Flourishing in Ministry.

It's happening in The Newbigin Fellowship. This year 23 women and men from various backgrounds and vocations are taking a contemplative year to dig deeper into scripture, explore new patterns of daily prayer and spiritual disciplines, and learn from thought leaders from around the country. They are exploring some of the most challenging issues of Christian faith in our contemporary cultural moment and the ways those challenges are met in daily life.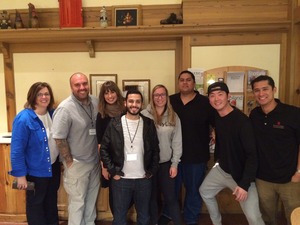 It's happening in our partnership for Seminary Education. 6 years ago we began an experiment to reimagine theological education for a changing world. Now students from all over the country are participating in a distance-learning masters program that equips them to wisely engage their neighbors in ministry in the cities where they already live and work. There is amazing synergy in this multiethnic and culturally diverse group of students with very different life experiences coming together to be part of a learning community. Click here to read more directly from one of our students.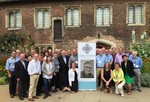 It's happening in our annual Lesslie Newbigin Summer Institute (LNSI). This summer will mark the fourth annual LNSI at Cambridge University, in partnership with the Newbigin Centre there. This summer's speakers will include Pulitzer Prize-winning writer Marilynne Robinson and former Archbishop of Canterbury, Rowan Williams. Participants come from all over the world, but lasting relationships are formed (just this month I had houseguests from Germany and the U.K., both recent LNSI attendees).
For this work to continue we need your partnership. Can you help us raise our year-end goal of $300,000?  Would you be willing to become a regular supporter? I am delighted to speak with you personally about the vision of Newbigin House and your participation. Contact me at scot@newbiginhouse.org.
Here's how you can help:
Pray for us regularly, please!
Make an online gift – click HERE.
Make a gift of appreciated stock. Avoid capital gains penalties and receive a tax deduction for the appreciated value. Click HERE
You can mail us your year-end gift. Simply send to: Newbigin House of Studies, P.O. Box 641049, San Francisco, CA 94164.
Thank you for being a bridge-builder. Thank you for investing in people who are investing in people. It is through the support of friends like you that we continue this vital work. Thank you for your support and generosity!
Advent Blessings,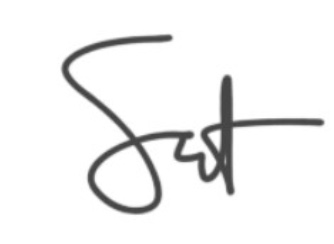 Scot Sherman, Ph.D.
Executive Director, Newbigin House of Studies
2016 Newbigin House of Studies
info@newbiginhouse.org