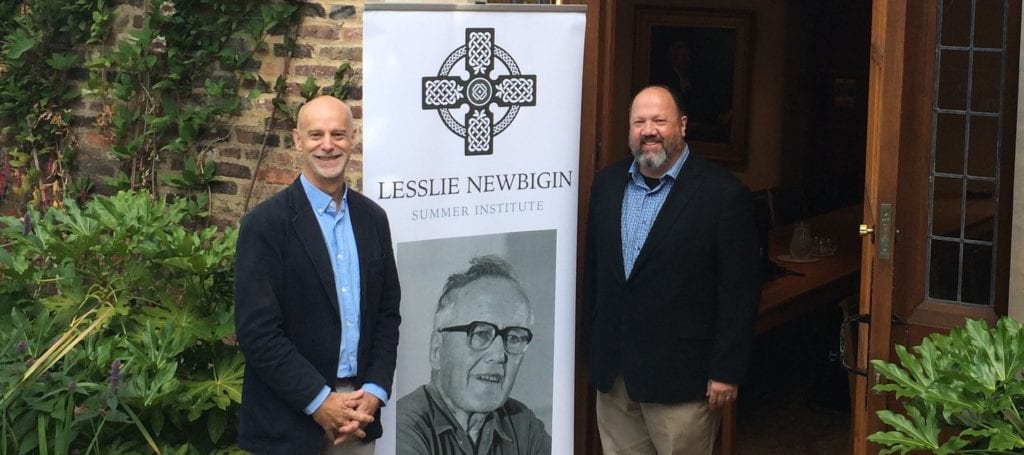 Rev. Dr. Paul Weston teaches Mission Studies at Ridley Hall, Cambridge, UK. Along with the Newbigin House of Studies, Paul hosted the inaugural Lesslie Newbigin Summer Institute in Cambridge England this summer (July 7-10).
What a week! Looking back on it my mind immediately fills with a range of wonderful images and memories: of remarkable settings, of discussions over drinks and meals, of laughter and fun, of Scot's newly-bought panama hat, and of deep learning and engagement. This – our inaugural Institute – was wonderfully hosted by one of Cambridge's oldest colleges (Trinity Hall, founded in 1350), a college right in the heart of the old university city, with a beautiful river frontage. We held our meetings in the ground floor lecture room of the college's late 16th century library, surrounded by portraits of some the college's past 'greats'.
The format of the Institute was simple in design. We had geared the 4 days around a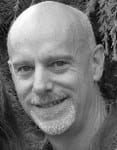 narrative approach to Newbigin's rich life, our aim being to drill down into the contributions of the various 'stages' of Lesslie's life and ministry with a view to learning vital contemporary lessons for our own continuing missionary engagement. Each morning, following a devotional time based around a simple liturgy, we enjoyed lecture input from Scot Sherman (on Newbigin's early Indian experience), Mike Goheen on Newbigin's missionary church thinking when based with the WCC, and Paul Weston on his 'post-retirement' engagement with the post-Enlightenment culture of the West. We also enjoyed a richly stimulating talk by Jenny Taylor on the impact of Newbigin upon her own development as a journalist, and on her continuing work in and amongst the secular media. Then after a light lunch, the afternoons were largely free for different activities (including 'punting' on the river, 'Cambridge-style', shopping in the closely-packed city, enjoying a 'Tour' of some of the sights – including the colleges where Newbigin studied as both an undergraduate and graduate, or just hanging out to chat or take time out and enjoy the surroundings.) At 5pm each day we held an informal discussion over a drink, picking up and developing in discussion some of the questions arising from the morning's teaching. If I say that on offer was a variety of chilled beverages from the college's wine cellar (including sherry, Pimms & lemonade, and chilled Pino Grigio, you'll get the picture!). Then on the final day we were privileged to have Bishop N.T. (Tom) Wright join us for discussion and debate, and for a memorable sermon given at the closing service on the theme of Unity and Mission (from John 17). Capping off the week was a wonderful closing banquet in the old dining hall of Sidney Sussex College (under the watchful gaze of Oliver Cromwell who had attended the college as a student in the early 17th century!).
Perhaps something of the 'feel' of the week is emerging? Amidst all of this, however, what struck me most were the rich discussions and debates that touched significant ministries and lives. This was partly because of the international flavor of the conference (we had folk from America, Britain, Europe, and Asia amongst the 40 or so attendees). But I think it was mainly due to the profound and continuing influence of Lesslie's prophetic work. All who are familiar with his work will know how it continues to intercept and disrupt and stimulate our thinking – whatever our context. I think he would have smiled and given thanks, as indeed so many of us did!