We at the Newbigin House of Studies are excited to host two upcoming events this summer.
Simply Good News: A Conversation with N.T. Wright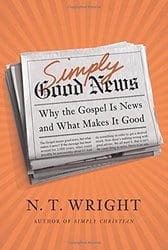 The Gospel means good news. But what makes this message good? How can the Bible, filled with seemingly contradicting stories be good news? Does it even apply to life today? On Saturday, May 30, noted Biblical Scholar, N.T. Wright will be speaking about his new book Simply Good News: Why the Gospel is News and what makes it Good. In public conversation with Dr. Scot Sherman, Professor Wright will offer a clear and thoughtful analysis of what the "good news" really is, and how it applies to our lives today, revealing its power to transform us.
7:00pm-8:30pm, The Nourse Theater, 275 Hayes Street, San Francisco, CA 94117
Click here to purchase tickets today!
Lesslie Newbigin Summer Institute 2015 "The Gospel as Public Truth"
Lesslie Newbigin (1909-1998) taught that the gospel is an account of things that have actually happened. It is 'public truth,' telling the story of God's actions to redeem and reconcile an alienated creation and direct it to its true end. This is relevant news for every living human being in every culture. So how might Christians bear more effective witness to this news in every arena of public life—in the sciences, media, technology, the arts, finance, politics, education, and more? And how can the church be more effective in equipping Christians in their calling to bear public witness to Christ? Join us this July in beautiful Cambridge as we explore this crucial theme in the life and work of Lesslie Newbigin.
Click here for more information and to register today!