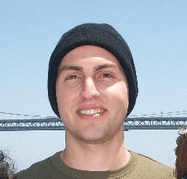 My name is Joey, and I'm an alumnus from the 2011-12 Newbigin Fellows class. I was born in the 80's in South Florida, went to school in Baltimore, then moved to SF in 2009 to work as an engineer at Genentech. I became a Christian in high school, and since then had this hunger to learn more about the Bible and what it says in a seminary/academic setting. However, I had begun to lose hope after beginning my career that I would ever get the chance to pursue this desire.  The 9-month Newbigin Fellowship was a perfect solution! It gave me a way to balance my work schedule with a solid theological program.
The experience was life-changing.  The program taught me how to let go of the fears and anxieties attached to my faith that were passed on to me from the Christian culture I came from. The program had two big themes the year I was in it (1) organizing your religious beliefs across a spectrum of 0-100% certainty through challenging commonplace religious dogma and (2) assessing your motivations – good and evil – using various tools in order to gain an understanding of how to implement the Golden Rule more successfully, i.e. to love God and love your neighbor with all your heart, mind and soul. We did this through a series of literature, oral presentations, group discussions, retreats and psychedelic drugs. Just kidding about that last one; I wanted to make sure you were still paying attention. 🙂
I love that the Newbigin House of Studies is smack-dab in the middle of San Francisco!  Being a Christian in the Bay Area is a much different experience than in suburban South Florida or Charm City. It's much more difficult to turn on the blinders and cuddle up into a nice cozy mass of Christians where you can hide from hot-button issues like the creation story, sexuality stuff, and other controversial issues. The Newbigin Fellowship equips you with the tools to talk about anything, because it forces you to be humble about your beliefs and approach things with an open mind. I found this to be an absolute must for finding my stride in the work God is doing not only in this beautiful city, but anywhere God has led me since.
Hooray Newbigin!
Joey Wood
Newbigin Fellow Alumnus
2011-2012
Applications are now being accepted for the 2015-2016 Newbigin Fellowship. Click here to learn more.