This fall marks the ten-year anniversary of the Newbigin Fellowship. We have seen the program grow and change in countless ways. Leader identification and recruitment means that former fellows now lead all the cohorts. The curriculum has gradually grown as the leadership continues to learn and grow in our theology. The spiritual practices we are cultivating are sinking their roots deeper into the diverse contemplative practices of the church.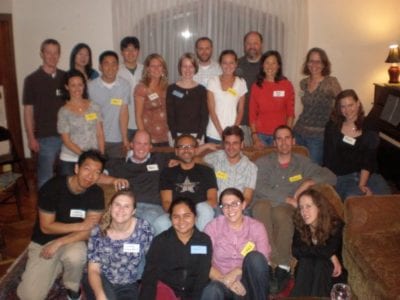 What has not changed is that we continue to curate a contemplative year that immerses people in the story of the God who is at work in the world. The three-pronged mission to facilitate biblical and theological development, spiritual practice, and a community of friends bears fruit for everyone who gives themselves to the year-long journey we take together.
Over the past couple of years we have seen some new opportunities for Newbigin alumni. Some who went through the program in an early year have returned to explore the new material and serve as leaders. Others have gathered at monthly "book club" type meetings to reconnect with the program and trace some of the new trajectories.
As this new year kicked off, we were thrilled to see that nearly one half of the incoming fellows had identified as a member of the LGBTQ community in their applications. Although we have been becoming more theologically inclusive over the past several years, there is a level of learning and transformation that can only happen as the culture shifts with the presence, lives, and voices of those whom we are seeking to include among our number. This is a great marker in our ongoing journey to be a people transformed in community with all God's children.
This fall we were also able to offer a cohort in East Bay for the second year in a row. We hope to continue cultivating partnerships and building a presence in the East Bay.
In the curriculum this year we continue to tweak the major changes we put in place last year. As we learn from people in African American, Korean American, Native American, Latinx, LGBTQ, and Nerdy White Guy communities we are discovering a gospel that is richer, more challenging, and more beautiful than most of us have seen before.
Perhaps the greatest challenge we're facing together is how to respond faithfully to all that we learn. With so many voices calling us, seemingly, in so many directions, how do we know what it looks like to faithfully embody the story of the liberating, self-giving God that we find in scripture and the tradition of the church?
If you want a taste of some of the new material we're engaging this year, check out this provocatively titled lecture by Willie James Jennings, "Can White People be Saved?" Then, bring you questions when he comes for a public lecture on January 16, "Christianity and the Origins of Race." Hope to see you there!