Our programs in theological education at Newbigin House are continuing to grow, and I'm grateful to share some exciting updates about our student body, recent additions to our teaching team, and a new opportunity for both students and friends of Newbigin House.
New Cohorts for 2019-20
Earlier this fall, we were delighted to welcome seventeen new Ministry Fellows from eleven cities across North America. With two tracks, one for pre-seminary students and another for pastors and ministry leaders, participants benefit from an incredibly diverse cohort of peers as well as a carefully curated curriculum. We are continuing to see high interest among individuals and communities searching for pathways to spiritual and theological reconstruction.
In these troubled times, when so many are questioning inherited paradigms of faith, we are more committed than ever to resourcing critical conversations with theological reflection, historical context, and global perspectives.
A Growing Teaching Team
To better serve our cohorts, we are building our teaching team and seeking a more expansive as well as inclusive approach to theological education.
Since last year, Shirin Shafaie (London, U.K.) has been teaching intertextual hermeneutics as a unit in our Public Theology course. A scholar who models generous interdisciplinary engagement in her reading of the Christian scriptures through a comparative Muslim perspective, she has challenged our students to think about how they can more fully embrace their faith while learning from other traditions. This fall, Dr. Shafaie joined our staff as a senior fellow. With her help, we look forward to continuing to learn about the promise of interreligious dialogue in a world filled with religious divisions. (You can learn more about Dr. Shafaie in the brief interview posted here.) 
We are also excited to welcome two teaching fellows!
Julie Rodgers (Washington, D.C.) is an alumna of our program who brings her experience in LGBTQ advocacy and thoughtful public engagement on a variety of topics related to faith and identity. Her gifts in teaching and mentoring are making for a much richer learning experience for all of us.
Mihee Kim-Kort (Bloomington, IN), a religion scholar and author of two books as well as an ordained Presbyterian minister, brings a remarkable mix of academic and pastoral gifts to our course in Spiritual Theology. We're especially appreciative of the ways she is providing a crucial interdisciplinary perspective to our curriculum and pushing our students to explore theological questions in new ways.
Open Course (open to anyone!) – "Christianity and Race in America"
Last but not least, we are excited to introduce a new opportunity for students and friends of Newbigin House. As we continue building our curriculum, we are adding "Open Courses." Functioning as electives for our current students, we hope these standalone eight-week courses—which are open to everyone—will also be of interest to those non-students who may not be able to commit to a year-long program. The first open course will be "Christianity and Race in America" in Spring 2020. If this topic interests you, more information about the course and the unique opportunity of an immersion experience in South Korea can be found here.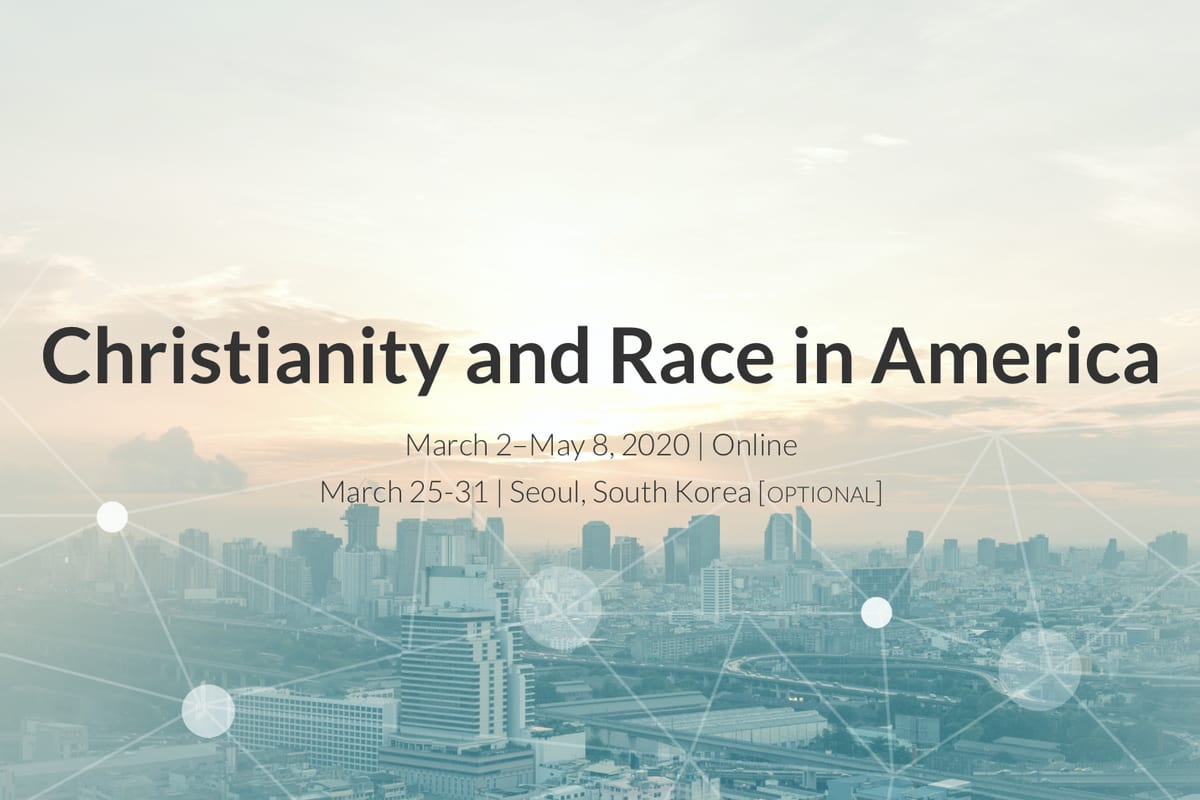 Thank you for your interest in our work at Newbigin House. And sincere and special thanks to our supporters who make these efforts possible!
– To learn more and/or to apply to the Ministry Fellowship, click here.
– To learn more and/or to apply to the Open Course in Christianity and Race in America, click here.