A Retrospective on Four Years at Newbigin by Daniel Kirk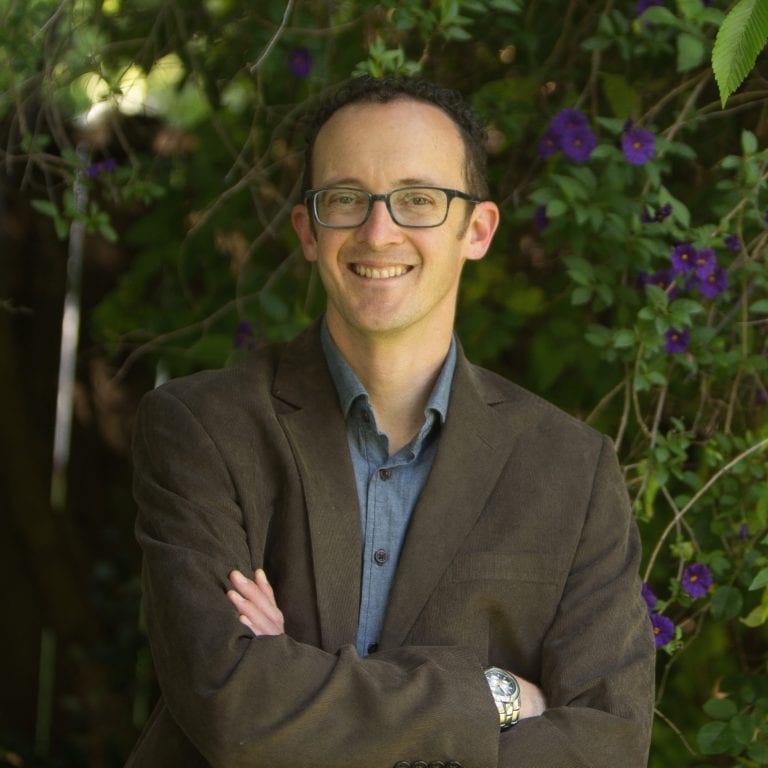 Four years ago I was given a rare gift: an invitation to join with an organization, a leader, and a program whose work I deeply believe in, whose values I share, and whose vision is life-giving for the world. That was the draw of coming to work as the Director of the Newbigin Fellowship and it has been the work, and relationships, that have brought me life ever since.
As a job transition for Laura takes our family to Texas and my time at Newbigin House comes to a close, I think about how my own life has been transformed and enriched in keeping with the goals of the Newbigin Fellowship: biblical and theological formation, spiritual practices, and community.
I'll let you in on a little trade secret: theology nerds do our best work when we're leading with what we're actively learning. One of the most tangible things I will leave behind is a reworked curriculum. Finding the resources for the fellows was a transformative listening project. It helped create a world of disruption in all the best ways. It showed me how any hopes I might have of "integrating" the voices of the American black experience or the Latinx experience or the LGBTQ+ Christian experience into a preexisting theological mold, church mold, or even the mold of a fellowship curriculum could only last as long as I refused to attend to what I was reading. It was the best kind of theological learning: the kind where you come out with more questions and fewer answers; but also, with more empathy, broader perspective, and an enlarged vision of who your family is in the Kingdom of God.
A transformation in my spiritual practices is something that snuck up on me and caught me off guard. I grew up in a tradition that believed deeply in grace, and it seemed that the best way to lay hold of that grace was by a lot of hard work in Bible study and prayer! Those things are good. And they were good for me. But when I came to Newbigin House I was exhausted in my spirituality as in so many other areas of my life.
As was thinking of all these things in preparation for writing this column a friend shared with me a poem by John O'Donohue. It includes this stanza:
The desire that drove you has relinquished.
There is nothing else to do now but rest
And patiently learn to receive the self
You have forsaken in the race of days.
-For One Who Is Exhausted, a Blessing
Working with the Newbigin Fellows has given me an opportunity to explore a wide range of contemplative practices, many of which are opportunities to slow down, do less, and receive more. As a high-intensity person with more than my fair share of intense emotions, anxieties, anger, and passionate responses to everything, I have found few things as deeply transformative as the practice of silently sitting. No requests. No pouring out and rehashing all the emotions and longings of the day. No recitation of Bible verses. No elaborate praises. Just sitting and being. And discovering the transformation, after a couple years of practice, of deeper gratitude for what is present here and now, of greater calm in the ongoing storms of life.
But perhaps the most delightful surprise over the past four years has been the gift of community. Newbigin Fellows and leaders have become my people, folks I connect with on Sunday mornings, people I grab coffee with midweek, friends who introduce me to the world of pun-offs, a family I'm connecting with even as I'm living 1800 miles away. Newbigin has been for me, as for so many of our Fellows, a place to discover life-giving community.
I cannot express in words my gratitude for the work of the past three years. Much of that thanks goes to Scot Sherman. My life has been marked by rough transitions over the past two decades, and at every one Scot has been a supportive friend, believing in me even in those times when I no longer believed in myself, believing for me even in those times when I no longer believed for myself.
The work of Newbigin House and its programs will continue—despite the challenges of Covid-19! This is a gift to the San Francisco area and to anyone fortunate enough to spend a year growing through the holy alchemy of study, spirituality, and community that we weave together as Newbigin Fellows. I am honored to have left my fingerprints on this work that will continue long after I have stepped away.