A Conversation with Mike McHargue
[ux_banner height="400px" bg="21827″ link="#" text_color="light" animated="fadeIn" text_width="80%" text_align="center" text_pos="center" parallax="0″ parallax_text="0″]
A Conversation with Mike McHargue
Author of Finding God in the Waves
[/ux_banner]
[row]
[col span="2/3″]
[title text="Finding God in the Waves" style="bold"]
"More than your typical 'science vs. faith' book…(this) is a deeply engrossing story about the experience of doubt, the thrill of discovery, and what it means to be human."
—Richard Rohr
"This is the most honest, challenging, and insightful book on reclaiming a lost faith that I've ever read."
—Peter Enns
"Mike McHargue has established himself as one of the thoughtful and necessary Christian voices of our time."
—Rachel Held Evans
"At its heart, this is a book about being alive."
—from the Forward by Rob Bell
What happens when God dies? Mike McHargue understands the pain of unraveling faith. In Finding God in the Waves: How I Lost My Faith and Found it Again Through Science, Mike shares the story of the loss and eventual recovery of his faith. Years after his faith dissolved into atheism, he had an experience while standing on the shores of the Pacific when a bewildering, seemingly mystical moment motivated him to take another look at God. That look—an engagement with neuroscience, cosmology, biology and physics—is what led him back to faith. He now hosts The Liturgists and Ask Science Mike podcasts. He'll be joining Dr. Scot Sherman in conversation about the hope of knowing God in an age of science.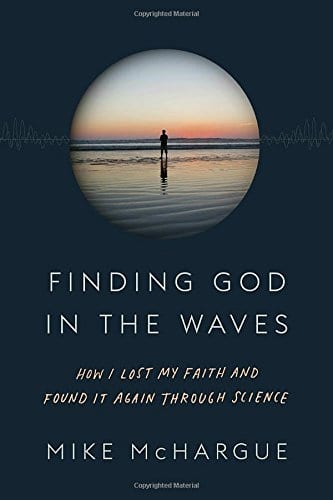 Thursday, February 2, 2017 • 6:30pm – 8:30pm
Century Club of California
1355 Franklin St., San Francisco, CA 94109
Tickets: $20.00
The evening will begin with a wine and hors d'oeuvres reception followed by an interview and book signing.
Copies of Finding God in the Waves will be available for purchase.[gap height="30px"]
[/col]
[col span="1/3″]
[title text="About the Author" style="bold_center"]


Mike McHargue is a writer, speaker, technology executive, and co-founded The Liturgists with Michael Gungor. His passion is helping people know God in an age of incredible scientific insight. To that end, he travels the country telling people his story of faith lost and found, a journey that starts in the Baptist Church, travels to atheism and secular humanism, until God reached out to him as he stood on the shore of the Pacific Ocean.
Mike is a popular speaker at conferences, retreats, churches, and colleges. He's recently appeared at SYMC, 2Days with Rob Bell, Granger Community Church, Hosanna! Lutheran Church, Bloom, Florida State University, and Nyack College.
[/col]
[/row]
[row]
[col span="1/1″]
[title text="CONVERSATIONS FOR THE COMMON GOOD" style="bold"]
Newbigin House of Studies regularly hosts lectures, performances, and onstage conversations with writers, artists, musicians, and leading thinkers. Featured guests are asked to articulate the important ideas and relevant viewpoints that inform their work and creative process. These conversations are offered in hope that all who attend will be enriched and challenged by the distinctive perspective that faith can add to our lives.
[/col]
[/row]