A Conversation with Miroslav Volf
[ux_banner height="400px" bg="21640″ link="#" text_color="light" animated="fadeIn" text_width="70%" text_align="center" text_pos="center" parallax="0″ parallax_text="0″]
A CONVERSATION WITH MIROSLAV VOLF
[/ux_banner]
[row]
[col span="2/3″]
[title text="Why Do We Need Religion?" style="bold"]
"(he) brilliantly weaves several strands of argument into an ambitious brief for the positive functions of religion in today's global village, where the negative consequences of religion are too often written in the blood of innocents"—Publishers Weekly
"an inspiring vision of how great faiths can be enlarged rather than threatened by diversity. An outstanding and timely work by one of the great theologians of our time." —Rabbi Lord Jonathan Sacks
Is religion a plague on humanity or essential for "the good life"? Yale University theologian Miroslav Volf contends that even though some kill and commit atrocities in God's name, "attachment to God amplifies and deepens enjoyment of the world." Volf is the director of the Yale Center for Faith and Culture and author of several books, most recently Public Faith in Action: How to Think Carefully, Engage Wisely, and Vote with Integrity and Flourishing: Why We Need Religion in a Globalized World. He'll be joining Dr. Scot Sherman in conversation on why religion matters.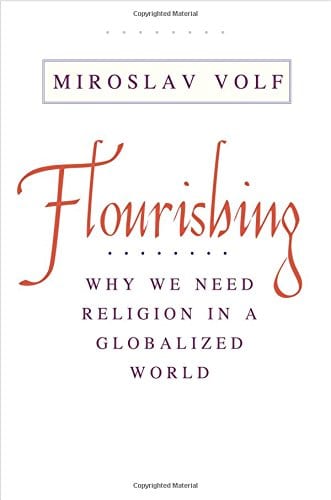 Thursday, January 12, 2017 • 6:30pm – 8:30pm
Century Club of California
1355 Franklin St., San Francisco, CA 94109
Tickets: $20.00
The evening will begin with a wine and hors d'oeuvres reception followed by an interview and book signing.
Copies of Flourishing: Why We Need Religion in a Globalized World will be available for purchase.
[/col]
[col span="1/3″]
[title text="About the Author" style="bold_center"]


Miroslav Volf is the Henry B. Wright Professor of Theology at Yale Divinity School and the Founder and Director of the Yale Center for Faith and Culture.  He was educated in his native Croatia, the United States, and Germany, earning doctoral and post-doctoral degrees (with highest honors) from the University of Tuebingen, Germany. He has written or edited more than 15 books and over 70 scholarly articles. His most significant books include Exclusion and Embrace (1996), winner of the Grawemeyer Award in Religion, and one of Christianity Today's 100 most important religious books of the 20th century; After Our Likeness (1998), in which he explores the Trinitarian nature of ecclesial community; Allah: A Christian Response (2011), on whether Muslims and Christians have a common God; and A Public Faith: How Followers of Christ Should Serve the Common Good (2011).  His most recent books, Flourishing: Why We Need Religion in a Globalized World and Public Faith in Action: How to Think Carefully, Engage Wisely, and Vote with Integrity (co-authored with Ryan McAnnally-Linz) were released in January and June of 2016.
[/col]
[/row]
[row]
[col span="1/1″]
[title text="CONVERSATIONS FOR THE COMMON GOOD" style="bold"]
Newbigin House of Studies regularly hosts lectures, performances, and onstage conversations with writers, artists, musicians, and leading thinkers. Featured guests are asked to articulate the important ideas and relevant viewpoints that inform their work and creative process. These conversations are offered in hope that all who attend will be enriched and challenged by the distinctive perspective that faith can add to our lives.
[/col]
[/row]